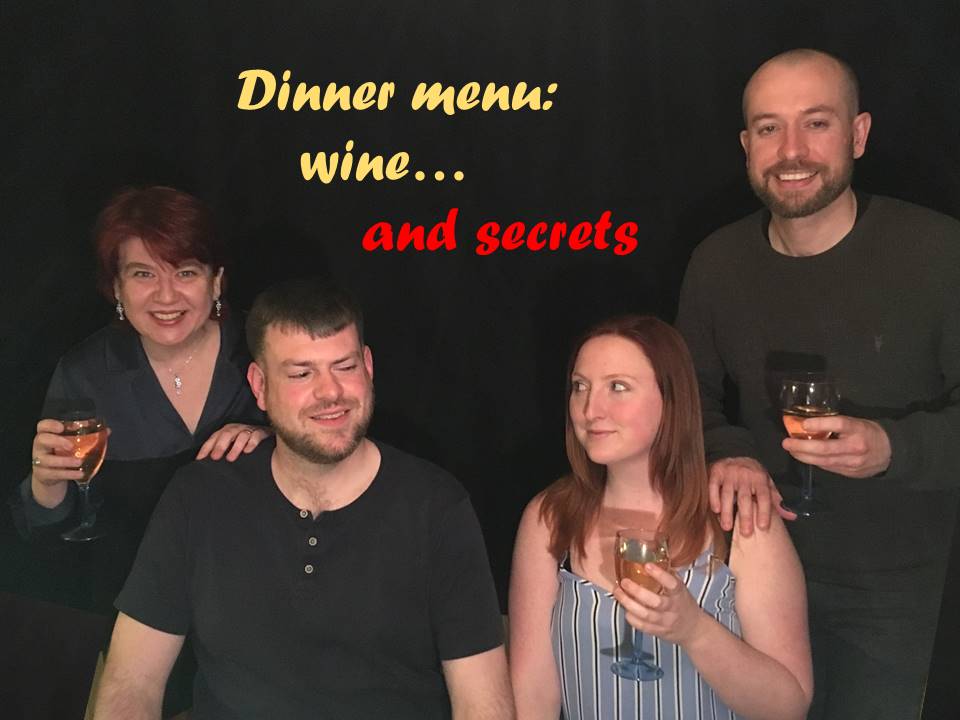 Four friends: two couples, and a lot of history.
The wine flows as they wait for their takeaway, they start catching up, as friends do – but there is something different about tonight.
Private thoughts start spilling over into polite conversation and suddenly they are sharing far more than they intended: longings, jealousies, and a secret past.
It's an evening that changes them and their friendships forever.
Performances
Twilight Theatre premiered the acclaimed comedy drama Waiting for Curry by award winning Brighton based playwright Susanne Crosby to Hove Grown Festival in 2017.
A new incarnation went on to receive huge popular and critical success in the Brighton Fringe Festival 2018 with sold out shows and two extra performances due to demand.
We were invited by the Kings Head Theatre in London to perform there in January 2019.
View or download the free programme here
Some Audience Feedback:
"Brilliant!" "Loved it!" "beautifully performed"
"You recognise yourself in the characters" "Fantastic writing"
"a wonderfully honest, comical and loveable script, performed by an amazing group of actors"
And a favourite with Susanne Crosby: "It's like the Peep Show meets Pinter, without the pauses."
Below is some of the feedback during the Brighton Fringe 2018: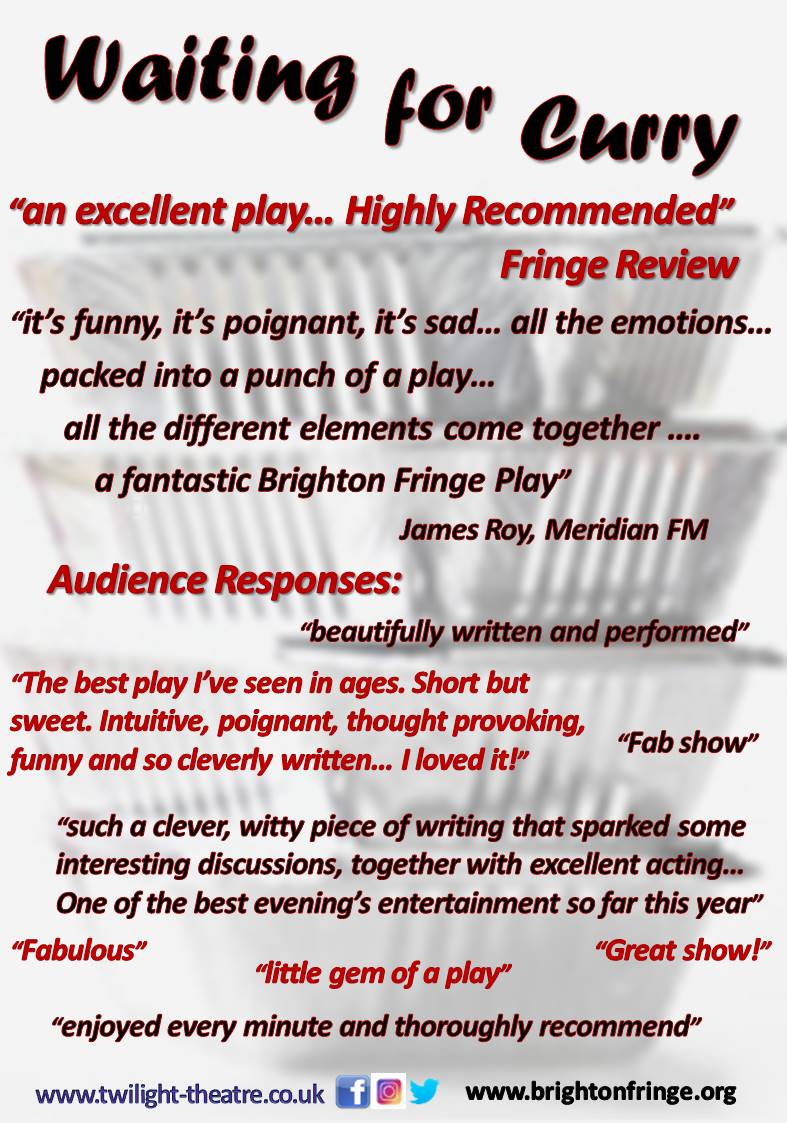 Kings Head Theatre: January 2019
Cast: Rob – Matt Grief; Chris – Susanne Crosby; Sue – Alex Louise; Phil – Alex Bond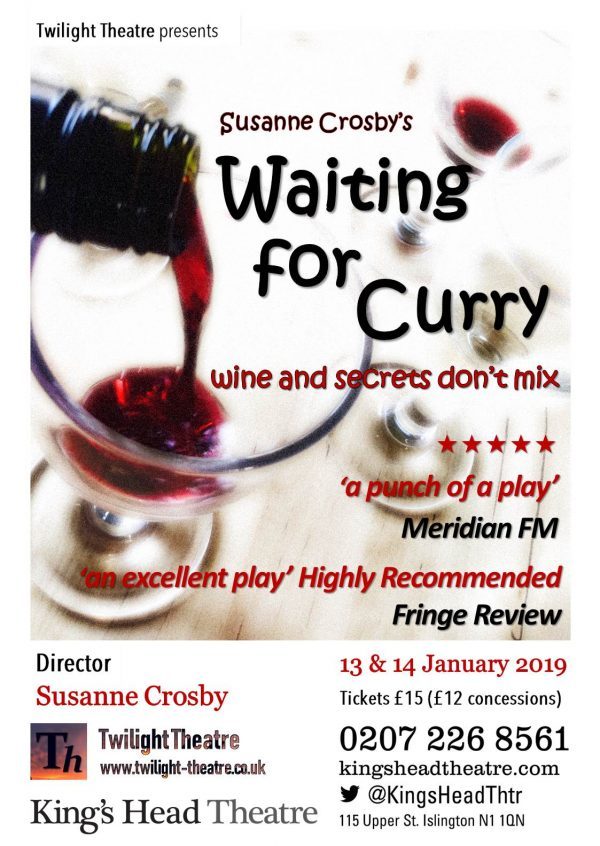 Brighton Fringe Festival: May 2018
Cast: Rob – Matt Grief; Chris – Susanne Crosby; Sue – Alex Louise; Phil – Alex Bond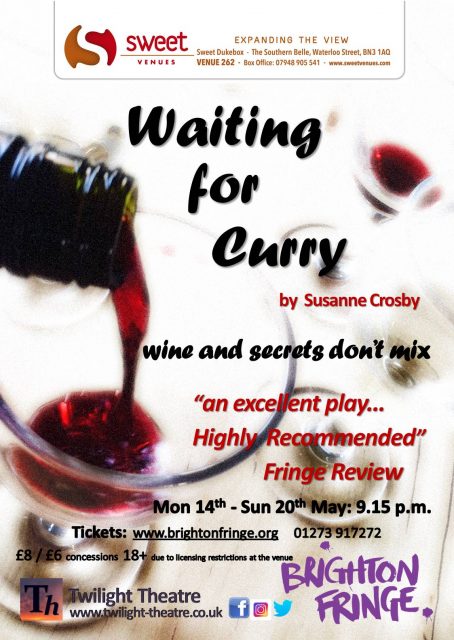 Hove Grown Festival: April 2017
Cast: Rob – Matt Grief; Chris – Kerri Frost; Sue – Sarah Griffin; Phil – Ben Cassan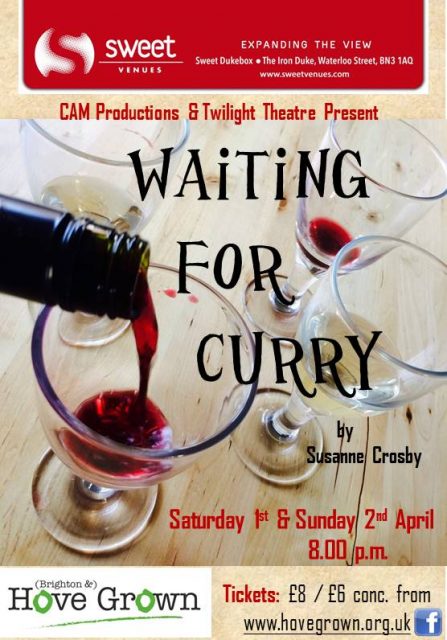 Reviews
James Roy on Meridian FM's review 5 stars Review
Fringe Review classed it as "highly recommended" in both 2018 and 2017 and gave it brilliant reviews, for the writing, direction and all of the actors. Excerpts:
" There's an added depth to this new version, and some very funny awkwardness. And a smash hit for several reasons."
" …it's a more complex play, even if indeed it hinges on rekindled attraction between Sue and Rob, and the reasons Rob honourably withdrew so many years back. For Sue he's the one. For Rob, it's not so certain. Matt Grief – the one survivor from the original cast – deftly layers a far more complex role than his initial gruff materialism lets on.
Crosby's particular achievement lies in characterising four distinct individuals whose motivations – revealed in four monologues as the others freeze – show none of them shallow but awkward and less articulate when interacting. "
"There's a social reckoning, a denouement, and a very unexpected plot point. It's the kind of thing you'd expect from someone who knows what percentages can do. This version has a new emotional depth and residual wisdom with some fine lines – especially when Rob somehow blames Chris for his actions.
Grief's baffled and compromised decency's a thing that has you revolving the truth of it after you've left. Is he being truthful? Is he deluding himself in his protestations? We want to know. The cast's uniformly convincing – Bond's perfect subfusc, Crosby does hurt crossness and your heart goes out to Louise. But Grief's layerings and self-contradictions as Rob perhaps carry the palm.
In its unassuming clarity it hooks universal feelings into a moment. It's an excellent play and cast needing wider circulation; the audience again was packed. There's a quietly sad magic to this low-key play; people recognize themselves in it. It speaks."
Read the full 2018 review here
Read the full 2017 review here
Our Heroes
When the Kings Head Theatre invited us to perform "Waiting for Curry" at their prestigious venue we were over the moon. Of course we said yes. But the reality of taking it there dawned on us – that we needed extra help. We put together a Crowdfunder to help us get there and below are some of the heroes whose generosity made it possible to take it to London.
Heartfelt thanks to our supporters:
Paddy Cooper ~ Lesley Louise ~ Eleanor ~ Lianne Garcia ~ Emma Howarth
Helen Smith ~ Sam Anthony ~ Olover Watt ~ Rose Hall-Smith