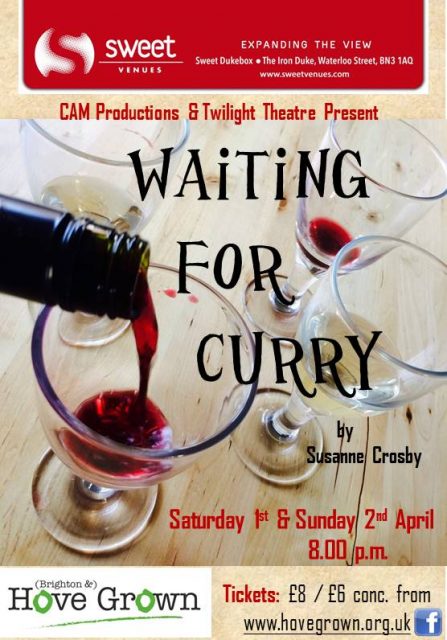 Waiting for Curry
Part of Hove Grown Festival, 2017
Ever wanted to tell someone how you really feel?
One evening, two couples, and a lot of history.
Wine flows as they wait for their takeaway: they share more than intended… an evening that changes them and their friendships forever.
"Waiting for Curry" premiered in Hove Grown in 2017 as a CAM Productions and Twilight Theatre joint venture and was very well received with first night sold out and second night only 4 or 5 seats remaining.
Reviews:
"Fringe Review" classed it as "highly recommended" and gave it a brilliant review, for the writing, direction and all of the actors. Excerpts: "Crosby's particular achievement lies in characterising four distinct individuals whose motivations – revealed in four monologues as the others freeze – show none of them shallow but awkward and less articulate when interacting. Rob in particular finds it difficult to navigate his drunk exterior to the point of sobriety, yet as he says after a crisis, he's momentarily stone cold and lucidly defends himself." "There's a social reckoning, a denouement, and a very unexpected plot point. It's the kind of thing you'd expect from someone who knows what percentages can do. an excellent play and cast needing wider circulation; the audience was packed." Read the
full review here